When Kim started the process of looking for a divorce attorney, she narrowed it down to three lawyers that friends had used when ending their marriages.
They all had similar fee structures: They required a retainer paid in advance with the understanding that if the cost of the case was higher, Kim would need to add more money to the account. Located in metro Atlanta, the attorneys all charged about the same hourly rate.
The attorney Kim ultimately chose charged $375 an hour and $225 an hour for her assistant. She required an initial $5,000 payment with the total cost of the divorce ending up around $20,000.
"In the end, cost was not as important as how I felt about the lawyer," said Kim, who selected a female lawyer with whom she felt very comfortable talking about the circumstances that led up to her divorce.
"It was important to me to have someone that I felt like was going to be supportive and I knew she had fought hard for the friend who referred her. It was such a difficult time and you are giving this person access to very personal information. I just went with my gut based on our conversation in the initial meeting."
Since the divorce, the attorney answered questions several times for Kim without any additional cost.
What divorce attorneys charge per hour on average
Average hourly rates for divorce attorneys span quite the range. Fees vary depending on region, as well as an individual attorney's experience.
A recent survey by Nolo Network, a collection of sites that offer free consumer-oriented legal information, found an average rate of $270 an hour for divorce attorneys across the United States. More than two-thirds of people who responded said they paid between $200 and $300 an hour for a divorce lawyer. Just over 10% paid $100 per hour, and 20% said they paid $400 or more an hour.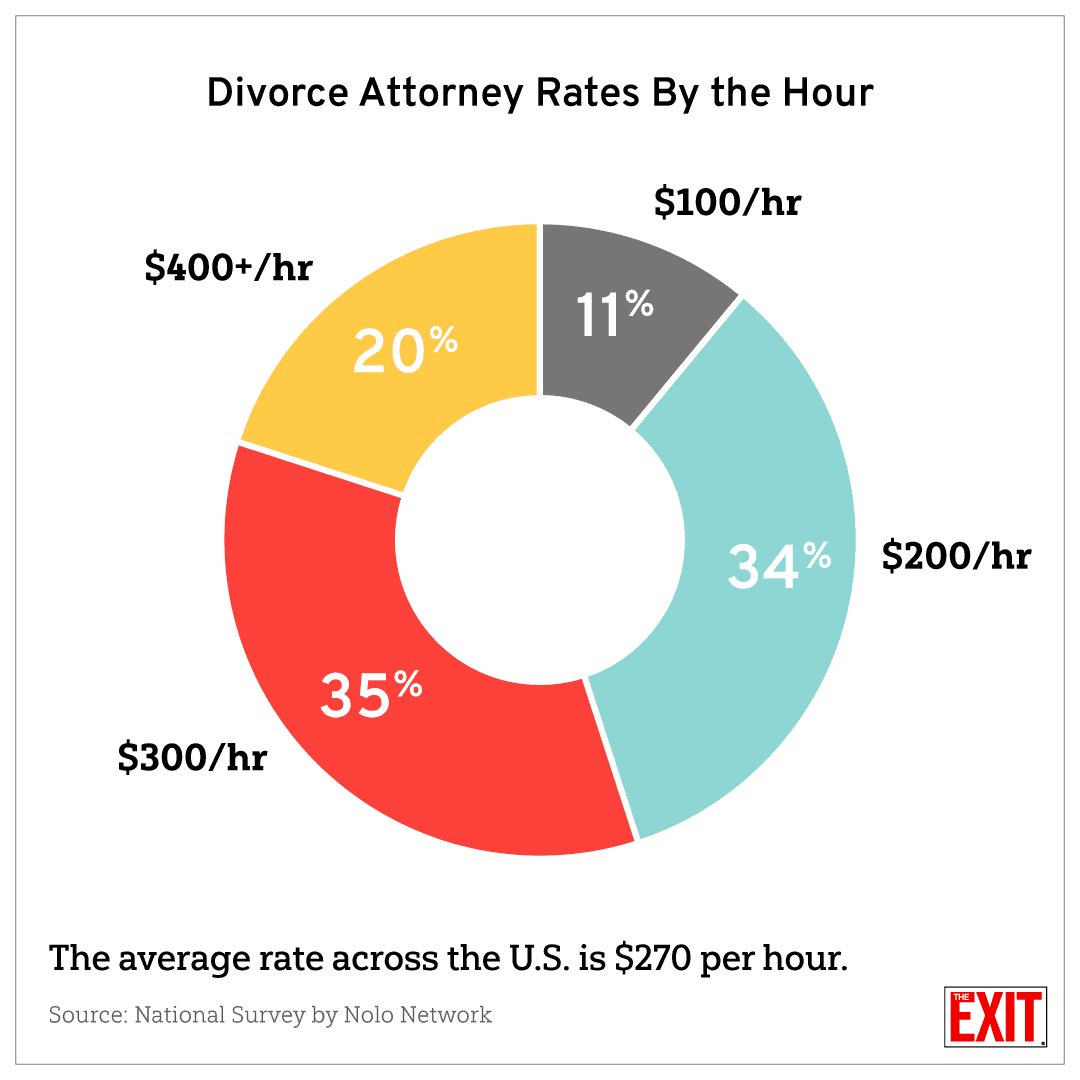 In another study by the same group, they uncovered significant differences based on location. Family law attorneys in the Los Angeles metro area charge between $315 and $395 per hour. Those in New York charge between $315 and $380. However, attorneys across Missouri charge between $200 and $270. In Ohio, average hourly fees range from $210 to $245.
"Attorneys set their own rates and sometimes they reflect the experience of an attorney but others may simply reflect that attorney's own self-worth," said Thad Woody, an Atlanta family law attorney who has practiced for nearly 20 years and also serves as chair of the American Bar Association Family Law Section.
Woody emphasizes that it's important to research to find out if an attorney's hourly rate is average or high for your market. Then decide if the lawyer's qualifications and experience justify that extra expense.
"Many of these items are subjective so this will depend much on your own personal preferences on what might be important to you from your attorney," Woody said.
The factors that affect the cost of a divorce
"The biggest factor when determining the cost of your divorce is how many items you want to argue about," Woody said.
"It seems simple but if you are on the same page with much of the property division, or do not fight about issues that have little financial impact, then the cost of your divorce will be much less."
Some of the more expensive divorces are those that involve child custody or expensive items that both parties want to keep.
"I once had a very costly divorce over which party gets which pieces of art. The parties had an extensive collection but each had their own reasoning and rationales why each piece was more significant and should be awarded solely to them alone," Woody said. "As expected, neither party got exactly all of the artwork that they had hoped for, but both expended large amounts of money (which could have bought even more art) to get to that final result."
How to lower the costs of your divorce
If the split is relatively amicable, do your prep work and decide how to split as many things as you can – whether it's custody of kids (or pets) and who will get which items.
The simplest – and least expensive – divorce is where both people are happy with the way the property and finances are divided and they have agreed to a co-parenting schedule.
"From my perspective, a divorce can be as inexpensive as $1,500 and some attorneys may be even less costly if limited time is involved," Woody said. "The more complex cases have more issues in dispute and sometimes those differences are millions of dollars apart. Issues such as the value of an appraisal or a spouse's equity share of a partnership can be subjective and lead to competing financial experts. The same is true for issues that might relate to the best interests of the children and their living arrangements. Those are the cases that can easily see fees grow to well over $100,000 and last for years in litigation."
If you're having trouble reaching agreements, see if a mediator of some sort can help you before you get to your attorney's office.
"I always encourage the parties to narrow the issues, when able," Woody said. "If parties can speak through a third party or even employ a therapist to help outline what issues they may agree to and what issues may still be outstanding, that is less time the lawyers have to spend getting to that point and money saved in litigation."
The questions to ask before you hire a divorce attorney
In the earlier study, about half of family law attorneys surveyed said they provide a free initial consultation. Those typically last about 30 minutes or more.
In Kim's experience, one of the attorneys she spoke with had a free initial consultation, while the others charged from $100 to $300 for the first meeting. The fee would be applied to the account if she opted to use them.
During that consultation is when you can ask questions about costs and the attorney's fee structure.
In addition to finding out an attorney's hourly rate, ask how often you should expect to receive invoices. Find out about retainer costs. Typically, attorneys require a retainer, which is a fee paid up front in order to start the client-lawyer relationship. The retainer could be more or less than the overall cost of the divorce. Some of the retainer fee may be refundable if the overall costs are less than the fee.
"It would be impossible for an attorney to predict at an initial consultation the cost of your divorce. In an ideal world, there is little disagreement and the parties come to an agreement without court involvement which saves substantial costs," said Woody.
"There is always a cost-benefit analysis and if you are paying thousands of dollars to litigate over hundreds of dollars then it simply does not make sense and you should cut your losses. There is always a time to fight though but you have hired an attorney for their expertise and experience, listen to them but also be mindful of your end result and the costs necessary to get there."